We all can be great speakers, but ...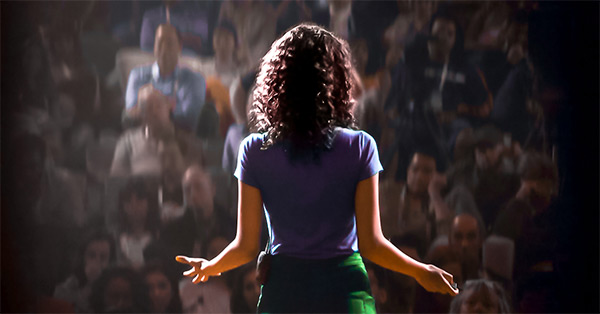 source: https://www.voicecoachla.com/public-speaking-coach
"If you can speak, you can influence.
If you can influence, you can change lives."
Rob Brown's (Author of "Wealthing Like Rabbits", and professional Public Speaker) popular quote explains clearly why it is so important to know how to speak in public. The word public means not only a huge crowd, it can be a board meeting or public lecture with students.
I considered comparing 2 famous individuals' public speeches, however, I decided it would be more personal to review my performances in my own public speaking videos.
As I speak Georgian in these videos, I will translate key words and sentences - body language goes beyond whichever language you speak.
This is my latest interview with the Public Broadcaster of Georgia. I participated in a business program and shared a story about Art Inception Georgia's (the platform I established in Georgia) international cooperation with the Netherlands based online gallery "onlinegallery.art".
Visual
Outfit is pleasant, colorful, yet formal.
Speaking
I repeated the same sentence 3 times - there was no need for this.

I used storytelling with details as a tool. This is vital.
Message
The message was clear that this collaboration is a good opportunity for Georgian artists. I maintained and strictly stuck to this message throughout the whole interview.
Vibe
It is obvious that I am happy to be here and I am passionate about what I am talking about.
What else could be improved
I lost eye contact with the host a few times and it is noticeable

I gesture a bit too much and should be minimized, but not so much that I don't show my passion.

My hair looks nice, but showing my face more would have been more effective. There should not be any distractions for you or the audience.
In the second video, I share my experience about a training program.
Visual
Casual outfit, suits the formality of the event.
Speaking
Overall good presentation, all aspects are covered.

Again storytelling is used to keep interest and have a solid format to follow. - This also helps you to keep calm and able to pick up the story easily if you get lost
Message
The message was clear that this training contributed to my personal growth.

However, the content is a bit general, I did not use enough details. Details give concrete messages.
Vibe
I am clearly giving positive energy, however it might be good to tone it down a little in the future.
What else could be improved
Whereas in the previous video I was gesticulating too much with both hands, in this one, I appear to only have one functional hand. Always remember that ALL of your body is important from the top of your head to the tips of your toes.
In both videos you can see the real Gvantsa, this is who I am. These videos are very authentic, even with all these positives and negatives. What I like in both videos is that I am not bossy or arrogant. The audience prefers when you are relatable and not speaking as if you are better than them.
Main takeaways:
Visual is key - it attracts the eye - wear clothes appropriate to the topic and environment
Make your answers short and sweet to give clarity - max. 3-4 sentences.
Have a clear message, speak with keywords., Choose 3 messages and integrate it into your speech
Be you - authentic, human, positive and open, the audience feels it, even through the TV.
I will finish this blog with my favorite quote from Dale Carnegie, "Only the prepared speaker deserves to be confident." Even you can be a great speaker. I would be happy to help with preparation and support you to deliver great speeches. Email me, we can start today.